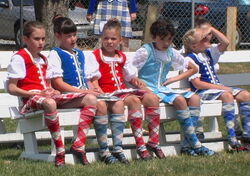 The Skagit Valley Highland Games, whose 11th annual edition was held July 9-10, 2005, is sponsored by the Celtic Arts Foundation, located in Mount Vernon, Washington. The U.S. Inter-regional Highland Dancing Championships were held in conjunction with this year's event.
The 2004 Skagit Valley Games featured over 20 pipe bands including the world famous Simon Fraser University Pipe Band, as well as over 500 competitors in individual piping and drumming and highland dancing. Attendance at the Games in recent years has been around 15000 for the two days.
The Celtic Arts Foundation, in addition to sponsoring and organizing the Skagit Valley Games, seeks to promote Celtic culture through a variety of other events and educational activities, including an annual Robert Burns event in January and a variety of Celtic concerts as well as scholarships and grants to Celtic artists and organizations.
Dates: July 14-15, 2007
Venue: Edgewater Park, Mount Vernon, Washington
External link
Edit