Highland Games
[
]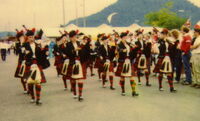 One of my main goals with respect to Highland Games activities is to improve the reporting of results of competitions, especially the athletic competitions. If these events are to take their place as serious sporting activities and be recognized as such (as they should), then it is necessary that there be developed a system of same or next day reporting of results. Only in this way can a fan base be fully developed and serviced. The colaborative potential of the Wiki software provides the basis for doing just this.
Wikipedia
[
]
Citizendium
[
]
Articles on Highland Games, Joan of Arc, women's cycle racing.
Licensing (multi-licensing)
[
]
All textual material posted to the Highland Games wikia is released GFDL. All of my textual material is additionally released CCPL Attribution - ShareAlike as are my photos.