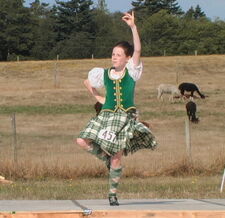 The Whidbey Island Highland Games will this year mark their 7th annual edition. Although relatively small, the games still offer a full contingent of attractions, including piping and drumming (4 bands at the 2004 event), Scottish athletics (amateur division), and Highland dancing with over 70 dancers at the 2004 event. In addition, there will be clan tents and celtic musical entertainment.
Dates: August 13, 2005
Venue: Greenbank Farm, Greenbank, Washington (on Whidbey Island)
Articles
External link
This article on a Highland Games event is a stub. You can help the Highland Games Wikia by expanding it.